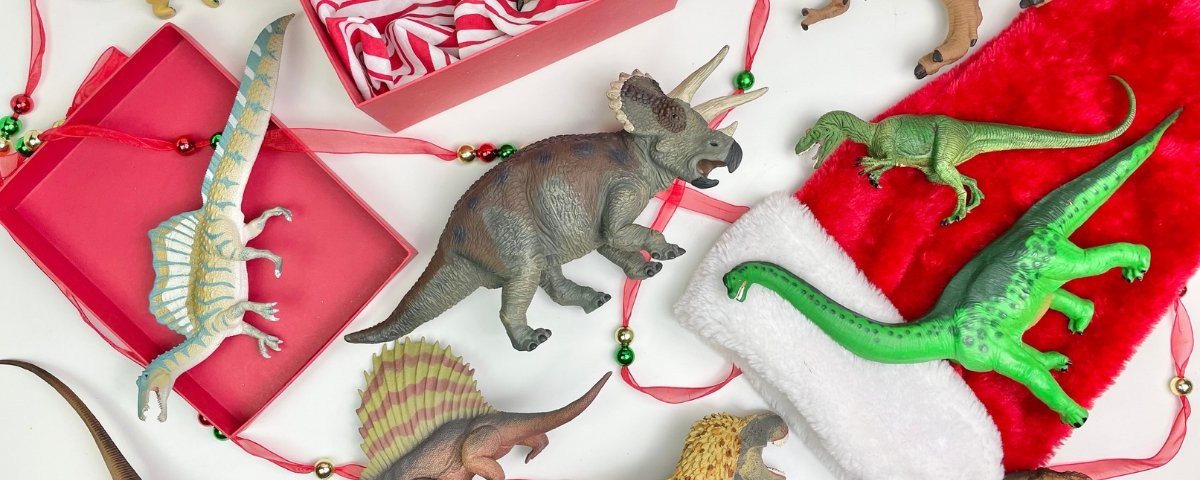 The Best Holiday Gifts For Kiddos By Age
It's almost that time of year! Weeks of preparation all leading to the sparkling eyes and squeals of joy! I love sitting on the couch with my cup of coffee while the kids play with their new gifts (that require no late night assembly)!! I don't know about you all, but nothing brings me joy like finding the perfect gift that I know will be a favorite for more than 10 minutes. 

When my boys were little, they enjoyed making animal noises and pretending to feed the animal figures or put them in their baths. They would even take them on hikes or to restaurants. Now that my kids are older, I love watching them get creative and dive into play with their Safari Ltd. figures…it is pure magic.
You can see problem solving and planning in action as they gather materials to make mini worlds or stop motion videos with the figures. We have wonderful conversations about which animal would dominate and why (often leads to researching) or how to make a figure's movements look more realistic in a stop motion.
Our Fan Favorite Recommendations by Age:
Ages 1-2 (Toddler Years) 
Exciting news! We have an expanded offering of figurines that are rated for 12 Month+.
We offer a large variety of toy animal figurines that represent all parts of the animal kingdom, and they come in many textures and sizes that will delight the toddlers in your life.
Toddlers development is enhanced through  exploring and making connections through play. Their little brains are undergoing an explosion of learning and language development. Adults can encourage many facets of development by sitting alongside toddlers and naming, talking about, asking questions and parallel playing with tangible objects.
Our figurines provide toddlers with high interest toys that boost development through play. Here are some of our fan favorites.
African Bull Elephant & African Elephant Baby
*Click here to see additional products from our newly expanded 12 Month+ offerings.*
8" Sleepy Eyes Owl Bedtime Soother
 *Click here to see additional stuffed animal options.
3-4 (Preschool Years)
Preschoolers delight in creative play that mimics the world around them. This age groups loves to play with figures that represent people, animals, and other objects from real life. Pretend play helps them make sense of their experiences with the world.
Fine motor skill development is crucial for this age, and manipulating various sized objects assists in this development. Our TOOB® figurines are highly engaging and are rated for ages 3+. They are perfect for fine motor skill development and small world  play. Many fans also enjoy adding our TOOB toys to sensory bins to create a more impactful learning through play experience. 
There is a huge increase in vocabulary during this stage, and all of our toys make wonderful tools for teaching vocabulary. Our figurines cover a wide variety of areas (vehicles, musical instruments, animals, mythical, people, landmarks, vegetation, and more!). Check out some of our fan favorite collections for this age group:
TOOBS® (themed sets that include small figurines)
Best in Show (for dog and cat fans)
Horses and other Farm Animals
Mini Mermaid Suitcase and Doll
*Click here to see additional stuffed animal options
5-7 (Early Elementary)
Kids at this age especially love role playing and collecting! This age group also seems to be particularly enamored with miniature toys. Our variety of figurines opens an opportunity for mixing and matching to provide a wide assortment of figurines for the budding collector or imaginative small world play. Check out some of our fan favorite collections to find the perfect toy to build a collection, spark imaginative play, and bolster learning.
Good Luck Mini Fun Packs (themed sets that include mini figurines)
TOOBS® (themed sets that include small figurines)
Dragons and other Mythical Creatures
Dinosaurs and Prehistoric Creatures
Best in Show (for dog and cat fans)
Horses and other Farm Animals
Plus-Plus Construction Toy Building Tubes
*Click here to see more games
 Shore Buddies Sammy the Seal Keychain
*Click here to see additional stuffed animal options
8+ (Big Kids)
This age group is more into complicated play scenarios, expanding collections, integrating play with technology, storytelling, and becoming more independent. These big kids can also show interest in "scary" toys.
We've got you covered with products to thrill your storytellers, excite your collectors, enchant your tech savvy kid, and inspire imagination and learning. Check out some of our favorite collections for this age group:
 Dino Dana toys (compatible with a Virtual Reality App)
Dinosaurs and Prehistoric Creatures
Check out our new BiOBUDDi  Pixel Create sets (for builders and creative kids)
Shore Buddies Finn the Dolphin Keychain
*Click here to see additional stuffed animal options
Plus-Plus Construction Toy Building Tubes
*Click here to see more games
Curious Adventurers
Our Safariology Collection has a variety of Toys that Teach for your budding scientists and outdoor adventurers.
*Friends of Safari*
Safari Ltd. is proud to offer a variety of hand-curated products that are fun and educational from brands that we love!
We've been scouring the marketplace to find the perfect compliments to Safari Ltd. The companies  featured in this collection align with our values and mission to provide quality toys with an emphasis on safety, variety, and education. Our new offerings include: stuffed animals, games, new building toys, books, toys for a cause, and much more!

Lowtides Gully Child Beach Chairs:
Each Lowtides child beach chair prevents up to 2 pounds of plastic from ending up in the ocean.
Made with recycled plastic materials
Features two cup holders, two reclining positions, and a 100 pound weight capacity.
This beach chair easily folds when not in use and features two backpack straps for convenient portability.

Check out some of our fabulous friends of safari offerings:
Safari Ltd. has more than just figurines! We offer a variety of plush toys for cuddles, soothing sound sleep aides, on the go friends, and much more! Check out the many options by Folkmanis, GUND, Ecokins, and Meri-Meri
Ecokins plush toys
Made of 100% recycled water bottles
Super Soft
Tags are made of post-consumer recycled materials, printed in soy ink, and attached with cotton string 
Exceed the requirements set by SCSIA (USA) and EN71 (EU) for safety standards and specifications.
Have embroidered eyes and nose
Do not contain beads inside
Enjoy the cuteness of this toy while helping to conserve the environment!
BONUS gifting Ideas:
Pair our figurines with:
Popular children's books
Supplies for themed sensory bins
Supplies for a DIY fairy garden