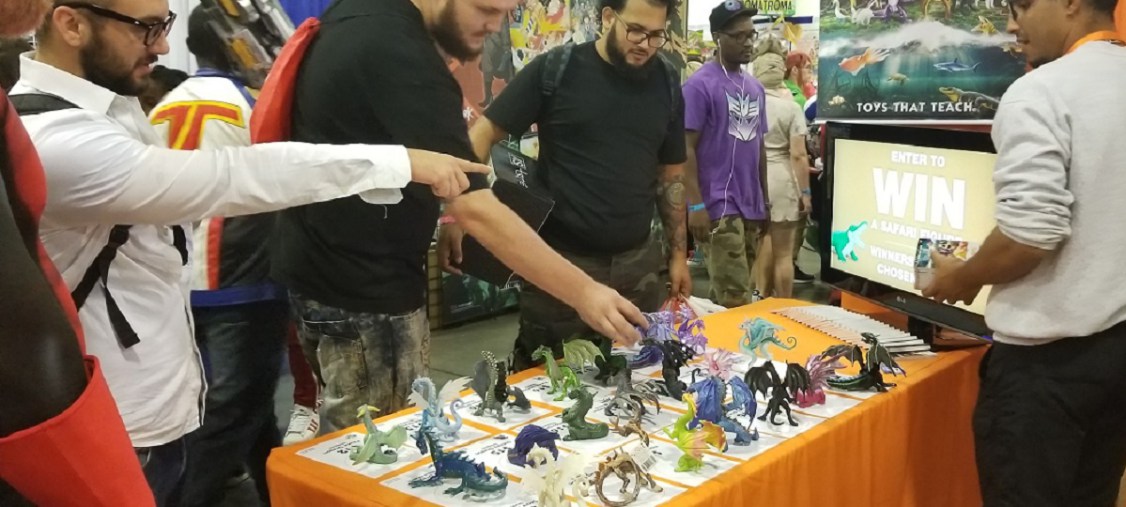 Safari Ltd's SuperCon Wrap-Up
Safari Ltd® is back from SuperCon 2017 in Fort Lauderdale! As a local South Florida-based business, it was a wonderful opportunity for us to meet and greet SafariFans both new and old on our home turf. Retail Account Development Specialist Carlos Guerrero spent the weekend at the Broward County Convention Center, manning the table at South Florida's largest comic convention. He had a great time discussing Safari's products with eager con attendees. "It was a great experience. We're proud to be here meeting local fans in our own backyard. We really put our name out there, and I met people of all ages who really loved our figures. There were children as well as adult collectors, and I even met a few teachers who were very interested in our 'Toys That Teach'."
 Safari Ltd's SuperCon Booth
Some visitors were familiar with Safari Ltd®, having encountered the toys in stores such as Michael's, but were surprised to see us at the comic book convention. Others were experiencing Safari for the first time, and according to Carlos many liked what they saw: "We had a great fan response and sold out of many of the items we brought. Our dragons, sharks, unicorns and dinosaurs were a big hit, but we also had some surprise super stars, like our Wildlife Wonders® orangutan, and our Incredible Creatures® black widow and Wild Safari two-toed sloth."
 Safari Ltd's Wildlife Offerings at SuperCon
Many were struck by the amount of detail in the figures, believing they were made of ceramic or something more delicate than the durable PVC they're composed of. One mentioned that they had seen our website and the product photos didn't do the toys justice, noting that the full details and textures of the figures show up much better in person.
In addition to celebrities and merchandise, cosplaying fans are one of the biggest draws to any con. Many visitors to the Safari table were dressed like an animal or mythical creature that corresponded with one of Safari Ltd®'s figures. So of course, Carlos was ready to snap a few photos of pandas, penguins and unicorns with their tiny plastic counterparts. There were even some cosplayers who had already incorporated their own Safari figures into their costumes!
| | |
| --- | --- |
| | |
| A Panda with our Panda Figure! | Two Unicorns with Our Unicorn Figures! |
SuperCon provided a great chance for Safari Ltd® to connect directly with the hundreds of fans who stopped by the booth, and educate them about their varied product lines, including Prehistoric World, Mythical Realms, and Dragons, just to name a few. Visitors were able to get their hands on figures that may not be readily available in stores near them, and learned that the entire Safari Ltd® line up is available directly from safariltd.com. Conventions offer the opportunity for fans to provide direct feedback and create a dialogue, and Safari Ltd® is already looking forward to the possibilities for future cons.
| | |
| --- | --- |
| | |
| The Mother of Dragons Brought Her Own Safari Ltd Toys! | A Penguin with Our Penguin Figure! |