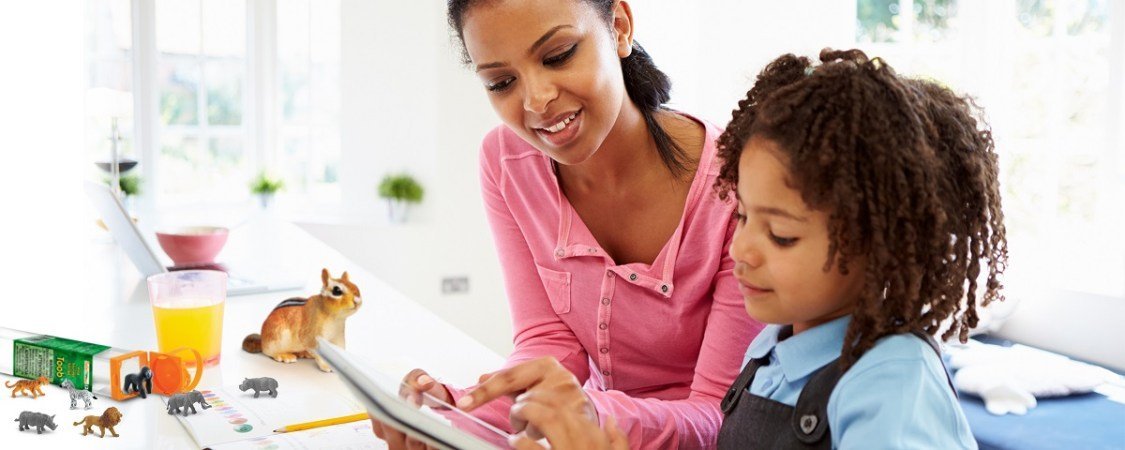 Toys That Teach - Homeschooling with Safari Ltd®
Homeschooling, or home education, is a fast-growing alternative approach to teaching children that has gained popularity in the last decade in the United States, and in many countries around the world. There are currently about 2.3 million students being homeschooled in the United States as of this writing, and the number is believed to be growing by 2% to 8% annually. Its popularity reaches across many demographics, and includes practitioners from all religious, political, financial and racial backgrounds.
Some studies show that, on average, homeschooled students produce higher scores on academic achievement tests. Additionally, despite popular belief, most homeschooled students have a similar level of social skills and emotional development when compared to traditionally educated students. While it may not be for everyone, home education allows parents to provide a customized and individualized curriculum that focuses on the specific needs of their children.
As "Toys That Teach®", Safari Ltd® figures are designed to be used for educational purposes. For children at any academic level, Safari Ltd® products can prove to be a beneficial supplement to the learning experience.
Early Education
For youngsters who are just beginning their home education experience, Safari Ltd® TOOBS® are a great tool for sensory engagement, honing motor skills, and other forms of "discovery" style learning that focus on hands-on materials rather than merely instruction. They work particularly well for activities that utilize the Montessori method, which is popular among homeschoolers who start their instruction at the toddler or preschool level. This method focuses on individualized attention and allowing children freedom to choose their activities and learn by working directly with objects.
| | |
| --- | --- |
| | |
| Matching Game with Wild TOOB by SimplyLearning | Safari Ltd Wild TOOB |
Two excellent hands-on activities for early learners are matching games and sensory bins. Matching games help develop memory and visual association skills. You can use a printable sheet with images or words and have a child match them with the corresponding TOOB® figurine. The small size and wide variety of TOOB® figures makes them an ideal choice for such activities, and the packaging doubles as a portable carrying case to better keep track of them so they don't get lost or misplaced.
Sensory bins involve tactile play and help to improve motor skills, creative thinking, and understanding of the senses. To create a sensory bin, you simply fill a container of your desired size with a substance like sand or rice, and then place figures or items for children to discover through using their hands to play and explore. Since individual TOOBS® are focused around a specific subject matter, they make a great choice for themed sensory bins, like the ocean or dinosaur fossils.
| | |
| --- | --- |
| | |
| Sensory Bin Activity with Farm TOOB by SimplyLearning | Safari Ltd Farm TOOB |
A Hands-On Approach
Safari Ltd® toys can continue to provide a hands-on resource even as your children grow and advance in their learning. Lessons on nature, science and biology can be supplemented with our scientifically accurate, accredited toys that help give students a better understanding of the world around them by holding a physical representation in their hands. Kaitlyn, designer of the Simply Learning early education homeschooling curriculum, says "I cannot express how helpful Safari Ltd figures have been in teaching my two daughters at home. They've given me tangible objects to tie to the books we use in our Preschool Units, allowing my girls to make connections between illustrated animals/objects and how they appear in real life."
The Incredible Creatures® line features scaled replicas of a variety of animals, some of which are life-sized. These highly detailed figures provide an up close look at everything from monarch butterflies to horseshoe crabs to bullfrogs to squids. Letting children explore and play with a realistic replica adds a level of fun and enthusiasm to any lesson.
Additionally, field trips to museums, zoos, aquariums, farms, parks or any other nature or science-themed destination can benefit from having something a child can engage with to help them connect to the location. Any of our Wild Safari®, Prehistoric World or Sea Life figures are excellent choices for use on such excursions.
Get Your Degree in Safariology®
As students grow and develop even more in their learning, the Safariology® line provides a unique range of toys to help children interact with their environment and learn about scientific processes. Life cycle sets feature figurines that illustrate the different stages of development for animals including chicken, butterflies, mosquitoes, frogs, ants, sea turtles and more. These sets offer an excellent illustrative supplement for lessons about metamorphosis and other biological processes undertaken by animals as they grow. Others, like the Evolution of Man and Solar System sets, are perfect compliments to related science lessons.
| | |
| --- | --- |
| | |
| Edible Butterfly Life Cycle w/ Safariology Set by SimplyLearning | Safari Ltd Life Cycle of a Butterfly Set |
Safari Ltd®'s offerings are a great way to combine playing with learning for nearly any homeschooling lesson, regardless of a child's age or educational level. If you choose to homeschool your children, consider incorporating Safari Ltd® figures into your curriculum to make give your students a learning experience that's both educational and fun.