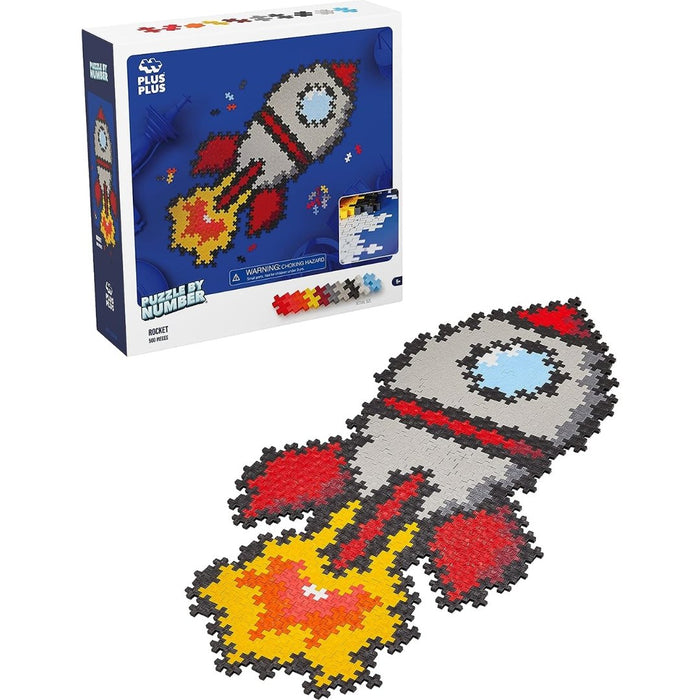 Puzzle by Number - Rocket
SIMPLE DESIGN - FUELS CREATIVITY: One shape, endless possibility! Every brick easily connects to the next. Create colorful flat mosaics or work in 3-D to make more intricate builds. Mix and match any Plus-Plus set to bring more ideas to life!

STEM | STEAM Toy: Plus-Plus empowers children with free explorative play as they encourage fine motor skills, logic, creativity and imagination all without the use of screens. Part engineering, part art, with a bit of math and a whole lot of FUN!

PUZZLE BY NUMBER: Combines the artistry of a paint by number with the satisfaction of a puzzle into a unique creative experience. Using the enclosed pattern, fill in the design by matching each number with the corresponding color.

BUILDING SET INCLUDES: This Rocket set includes 500 pieces and a numbered pattern flyer to build on. When you are done, display it on a table or hang it up as room decor - no glue or ironing required!

SUGGESTED FOR AGES 5-12: Each Plus-Plus piece measures 3/4" x 1/2". Appeals to a broad range of ages! Made in Denmark from high quality BPA-free and phthalate-free plastic in our own zero-plastic-waste factory powered by renewable energy.