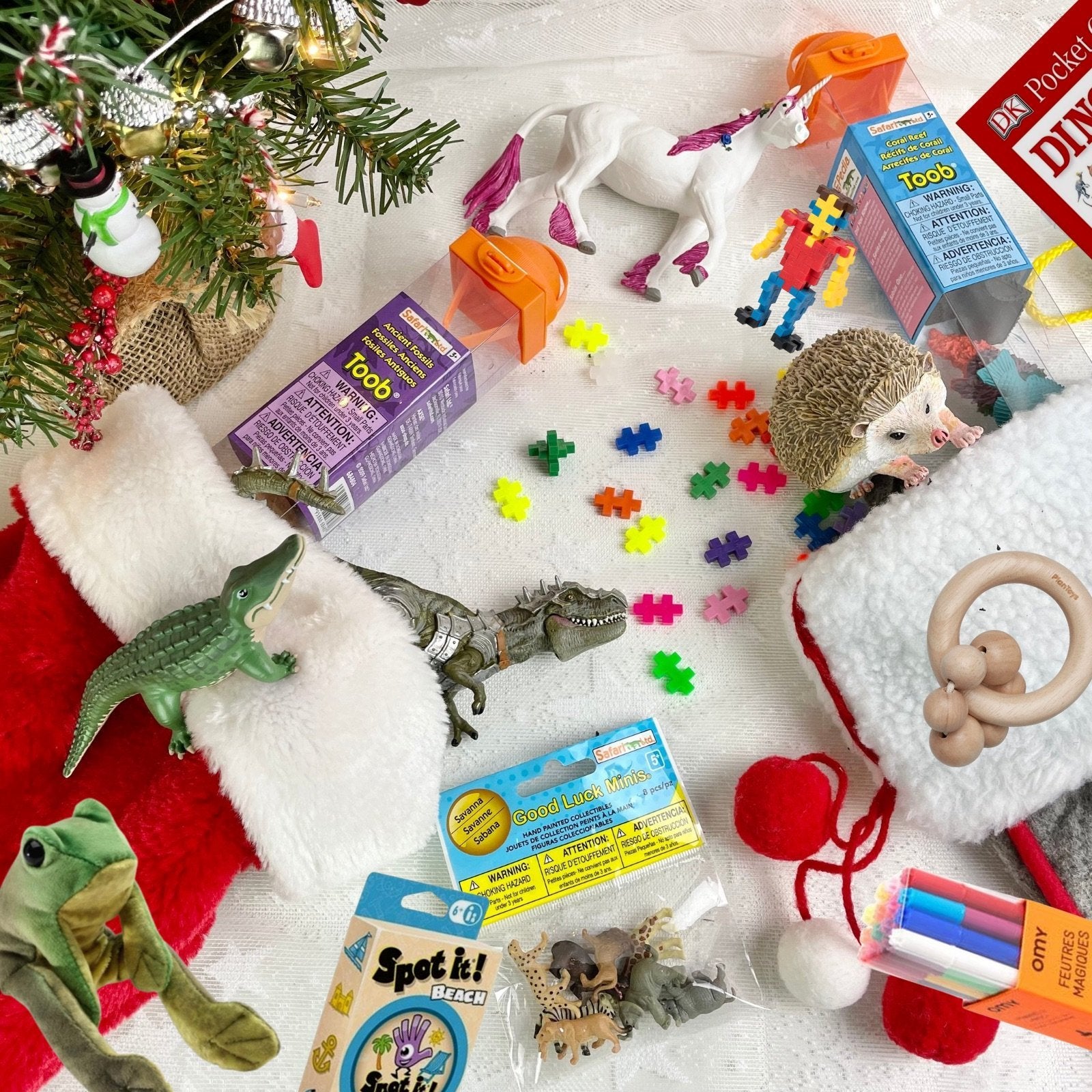 Stock up on Stocking Stuffers
There is just something so sweet about "stockings hung by the chimney with care." Stocking stuffers can be magical and set the tone for a very special holiday morning. They are more than just an afterthought or box to check. By carefully selecting small thoughtful items, our consideration can make a big impression on our little ones.
My kids have always loved stockings. They scamper down the stairs and eagerly open the stockings while my husband and I sip our coffee. We strive to fill them with small and thoughtful gifts that my children didn't think to ask for. My family has always viewed stockings as a way to communicate…"I see you, I know what your passions are, I speak your love language."
Take a moment to think about what your child gravitates towards in their moments of free time. What little things can light up their face? Use those insights to create a stocking full of the little things that make your kid sparkle with joy.
At Safari Ltd, we take great pride in offering quality products that are carefully designed and crafted to thrill all the kiddos on your list.
 No lumps of coal in sight! We have curated a list of our top recommendations for stuffing those stockings. 
Collecting and Open-Ended Play
We offer a variety of figurine sizes and collections that are optimal for open-ended imaginative play, educational uses, or as collectibles. Our Safari fans love to pair Safari Ltd. figurines with other items (books, games, loose parts, sensory items, donation to favorite animal charity, etc) for creatively curated themed gifts.
Safari Ltd. Fun Packs of Good Luck Minis®
Safari Ltd. Figurines of all sizes and collections
Investigate, Explore and Learn
Learning through playful hands-on exploration and investigation leads to the biggest discoveries.
 Fossil Dig Paleontology Kit  encourages future paleontologist to use the provided tools to chip and dig away at the block to reveal a real fossil inside!  
 Crystal Mania Gemstone Dig contains 5 unique gems to dig and find. Chip, dig and brush to review a shiny treasure inside. 
 DK Pocket Genius Books help young readers discover fascinating facts about their favorite subjects.
Camouflage Luminocular combines a flashlight with binoculars, these camouflage luminoculars are an explorer's best friend. 
LEGO LED lights Part over-sized LEGO, part keychain, part LED flashlight, versatile over-sized figures that are both stylish and functional.
Mega-10 Magnifying Glass is a pocket-sized dynamite magnifying glass. Along with a traditional wide-angle 4x lens, a narrow-focus 9x lens allows extreme close-ups.
Moon Ball Hyper Bounce Ball can fly 100' into the air and make a "POP!" sound when they hit the pavement. Use your Moon Ball at the playground, skate parks, and basketball courts!
Arts, Crafts, and Design
Perfect tools for the creative spirit!
OMY Magic Markers let imagination run wild! The white marker will change the color of the markers to the color of the caps.
OMY Ultrawashable Markers add some colorful and washable fun to your days! These washable markers are double-tipped, and each set comes with 16 different colors!
Sargent Art Crayons make the perfect addition to creative playtime for your budding little artist!
Plus-Plus Blocks is a unique construction building toy system that allows kids to create their own 2D and 3D imaginative designs!
Block Mania Erasers are colorful building block erasers for on the go fun!
Soothe and Snuggle
We all could use a little snuggle and comfort during this busy season!
PlanToys Beads Rattle - Natural is composed of a lovely wooden ring with a string of six wooden beads attached. Made from sustainable wood from rubber trees.
PlanToys Baby Key Rattle - Natural is composed of a cord with wooden handle and three wooden "keys" with silly face designs on them. Made from sustainable wood from rubber trees.
Little Knottie Blankets feature charming original watercolor print designs by Mary Meyer and cute plush character heads, are great for helping young kids fall asleep. 
Sweet Soothie features cinched corners and ribbed plush backing for tactile stimulation. A sweet plush friend sits in the center. 
Mini Finger Puppets by Folkmanis® will have kids jumping for joy!
5" Palm Pals wee-sized plushies are perfection in the palm of your hand!
Conservation
Little kids with big hearts will be thrilled to pitch in and do their part to make the world a better place. Help your little ecowarrior make a positive impact with these environmental friendly products.
Shore Buddies stuffed animals made from recycled plastic bottles. $1 from every product purchase goes to help save Marine Life! 
STRW are eco-friendly, natural dining products! Their high quality products are hand-crafted and organic
Game Time
Games are a fabulous way to have fun and bring the family together.
Spot It! - Waterproof Game hones players' observational skills and lightning-fast reflexes as the whole family enjoys five different games modes that test who's the fastest to spot matching symbols and call them out!
Paco's Party Game is fun children's game with a birthday party theme, kids will exercise process of elimination, focus & attention skills. It's easy to understand and play - no reading required.
Talent Show Game is a silly party game with a variety of different challenges. Play against the game or each other! Do you have what it takes to win the talent show? Roll the dice and complete the challenge for the round. Challenges include: drawing, singing, miming and combining words together. You will score points if the other players can guess what you are trying to represent.
Clouds Matching Game is a matching game that's perfect to entertain the wildest of imaginations! turn over a card and quickly search to find the matching halves. Be the first to reunite them to form one complete fluffy picture, and win! 
Playfoam Animal Pals come in a mystery pod that contains one of 12 different adorable animal figurines hidden within the Playfoam!  Encourage creative, imaginative play with this non-toxic moldable dough material that won't dry out!
Make it a Theme!
Fun curated collections for your theme loving kiddo!
Fossils
Dinos
Wild Safari® Prehistoric World
Fantasy and Mythical
Fantasy and Mythical figurines