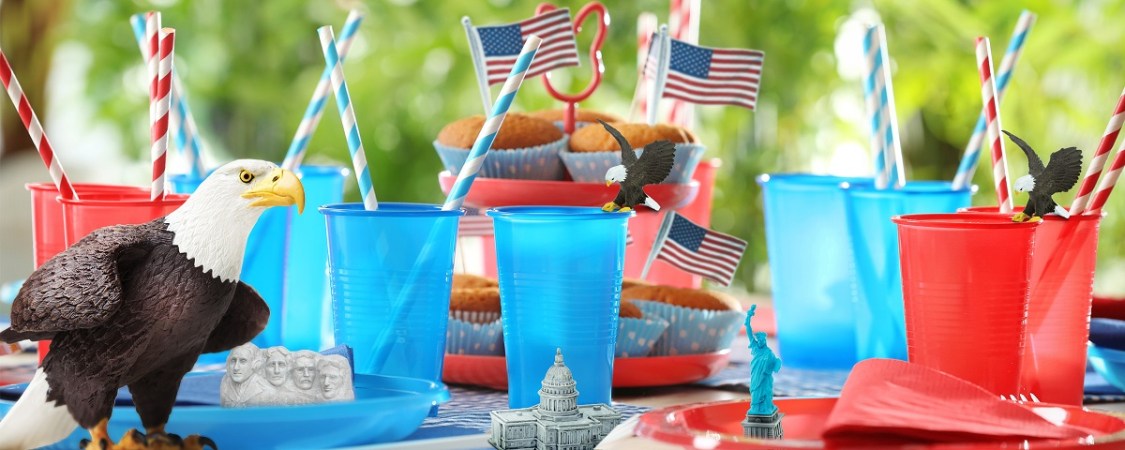 Make Your 4th of July Party Something Special
Summer is almost here, and you know what that means! …well, it means a lot of things, but one of those is the Fourth of July! Everyone loves a good July 4th party. Wondering how to take your party from good to great? Add in festive décor or some swag for your guests to take home. Stumped on where to take it from here? Don't worry, we've got you covered with a few ideas to make sure your Independence Day bash is the talk of the town.
Start Small with Good Luck Minis®
Tiny Good Luck Minis® can make great party favors for goodie bags or other giveaways for your party guests. Statue of Liberty minis and White House minis are great choices showcasing well-known U.S. landmarks, and our Bald Eagle minis are a tiny symbol of freedom and patriotism.
Good Luck Minis® are also a great choice to use as placeholders for table settings, as an accent piece to keep name cards in place. They can also be used as unique table top decorations, in place of or in conjunction with more typical confetti or other red, white and blue adornments.
TOOB® Toppers
Looking for something a little larger? Our TOOBS® items are the next size up from our Good Luck Minis®, but still small enough to serve as unique and interesting giveaways or decorations. They make great cake toppers or party favors, and with an eyehook and key ring can be turned into a keychain charm with ease.
Our USA Super TOOB® features miniatures of popular U.S. landmarks and symbols, including a bald eagle figurine, an American flag, a White House, a Lincoln Memorial, a Statue of Liberty, a Liberty Bell, a Mount Rushmore, and more. Our USA Presidents TOOB® includes eight mini busts of influential past presidents from George Washington to John F. Kennedy. Our New York City TOOB® features some iconic items from one of the great American cities, including a taxi cab, a subway car, a mini Empire State building and several other recognizable landmarks, including a Statue of Liberty.  
Go Big or Go Home
If you want to make a larger impact, you could always opt for a bald eagle figure from our Wings of the World line for a great party favor. At two inches tall, it's a big larger than our TOOB® figures, and packed with lots of realistic detail. But if you're looking for something even more substantial that could serve as the centerpiece for your July 4th display, check out the Incredible Creatures® bald eagle. This extremely detailed figure is a full seven inches long and over four inches high, making it a perfect patriotic Independence Day decoration.
With Safari Ltd®'s Good Luck Minis®, TOOBS®, and Wings of the World and Incredible Creatures® figures, you can be assured to have the best-decorated July 4th party on the block, with the unique gifts for you guests to take home, so they'll remember it for years to come.