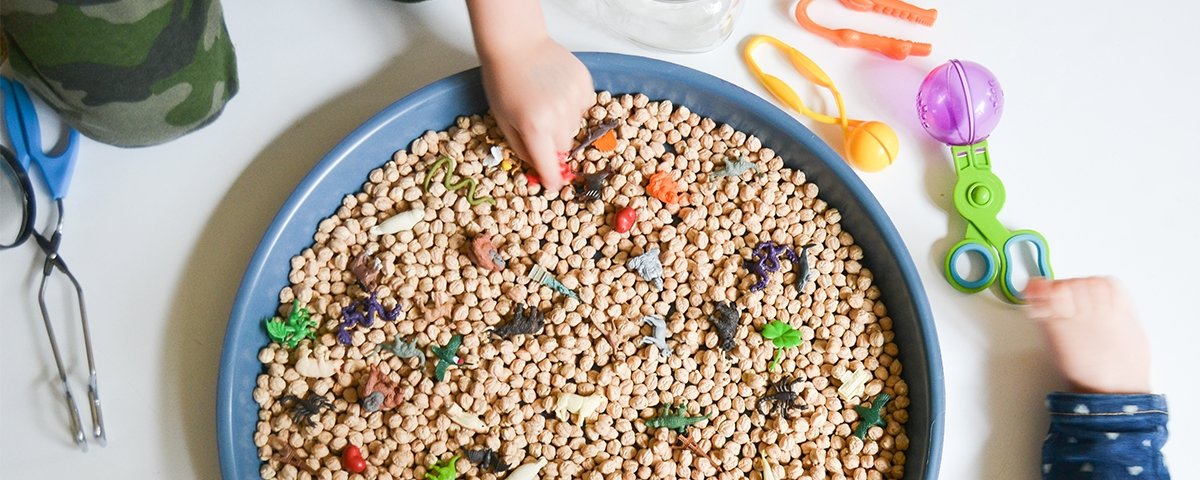 Good Luck Minis Series: Color Sorting Sensory Play
What is Color Sorting Sensory Play?
Sensory play is one of our favorite activities to do with Safari Ltd. animals! My kids love exploring their animals in a variety of different ways and I love all of the learning opportunities that come with sensory play. Today, I am sharing how we used the animals from our Good Luck Minis Toob to create a color-sorting activity in our sensory bin. My kids kept coming back to this play over and over again throughout the week, and I loved how simple it is to set up! Read below to get the details. 
Materials Needed for Sorting Sensory Play:
-Dried beans or rice
-A muffin tin
-Colored dot stickers
-A tray or sensory bin
-Scoops, tweezers, spoons and other tools
How to Make a Sensory Activity:
Step 1: Fill your tray or sensory bin with the dried beans and Good Luck Minis from the Toob. Use your hands to spread out the Good Luck Minis. 
Step 2: Create the color sorting tray using a muffin tin. I pick these small muffin tins up at the Dollar Store and find that they have SO MANY uses for play! The tin I used here has six compartments. To make a color sorter, place a different color dot sticker in each of the tin's compartments. Be sure to look at the Good Luck Minis and choose colors that you see in the items in the Toob.
Step 3: Invite your kids to play! I put our sensory tray out with lots of tools for scooping and dumping and the muffin tin. They got right to work sorting colors, counting and naming animals! They also played by scooping and filling the muffin tin. My daughter loved lining up Good Luck Minis on the edge of our sensory table. This kind of open-ended set up leaves kids with so many opportunities to play! As with all sensory play, be sure to monitor your child closely as they play.  
This post is by Emily Limer. Emily is a preschool teacher and mom of two toddlers who love to play with Safari Ltd. animals! You can follow her on Instagram @makingwithmommy for more kid's craft and play ideas.
For more information on sensory bins, including what they are, how to make them and how to use them, click here. We've got the 411 PLUS our favorite inspirational collection of sensory bins!
Our wildly popular Good Luck Minis® are pocket-sized tiny figures that are perfect for craft projects, event giveaways, or just keeping around for good luck! Our small animal toy fun packs will help you create your own tiny world of mini toys! Shop more here!