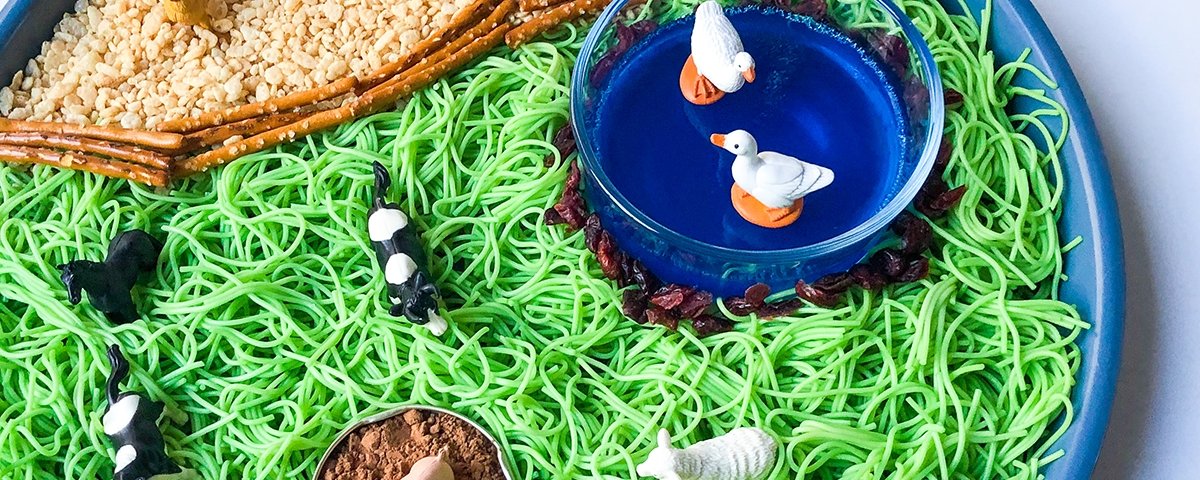 Farm Toob Series: Build Your Own Farmyard With These Playdough Recipes
Did you know our Toys That Teach can be used for tons of different educational and DIY projects?! We're introducing this new series with Emily Limer to show you the myriad of ways you can use our figurines!
Farm Toob Series: Build Your Own Farmyard With These Playdough Recipes
Sensory play is wonderful for toddlers and preschoolers. It is incredibly fun, but also helps little ones develop sensory awareness, strengthen fine motor skills, think creatively and develop language (as you talk to them about their play!). But for toddlers who are still likely to "taste" (lick, chew, gnaw) everything they play with, sensory play can be a little worrisome for parents. Using materials that are "taste-safe" is a great solution to this! In this post, I'll describe how I put together a farm sensory play tray for my 20-month-old. All of the materials I used in this tray are safe for her to explore with ALL senses, including taste if she chooses! Taste-safe sensory play is also a great way to engage your toddlers with their favorite Safari Ltd. figurines.
Materials needed: 
-Large tray (glass or plastic will be easiest to clean!)
-Uncooked spaghetti
-Unflavored gelatin powder (can substitute blue Jello)
-White vinegar
-Blue and green food coloring
-Brown cereal (any variety you like)
-Pretzel sticks
-Cocoa powder
-Small, round bowl
-Small round dish or clean lid from a recycled jar or container
Instructions: 
Step 1: Make the grass! To make the grass for this sensory play, I cooked a box of spaghetti in water dyed with a large squirt of green food coloring! As the pasta cooks, add a splash of white vinegar to the water to help the color bind to the pasta. Cook your pasta and then drain and rinse. If you are not quite ready to put your tray together, you can store the pasta in the fridge until you need to use it.
Step 2: Make the pond! To make the pond I used one packet of unflavored gelatin and blue food coloring to make tasteless "Jello" in a small glass bowl. Follow the package instructions to make your gelatin and store in the fridge until needed. If you prefer to use flavored gelatin that is fine too! I use unflavored to discourage her from eating it all. 
Step 3: Assemble your tray! Once you have prepped the spaghetti and gelatin, assembling your tray is simple! Begin by rinsing off your noodles and spreading them out evenly across the tray. Leave a small section, roughly ¼ of the tray, open. Once your pasta is in place, fill the remaining ¼ of the tray with dry cereal. This will represent a dirt or straw area of the farmyard. Next, use pretzel sticks to create a fence between the cereal and pasta. Line up the sticks along the divide. Create a little divot in your pasta where you can place the bowl of gelatin to represent a pond. Lastly, fill a small dish or recycled lid with cocoa powder to represent a little mud puddle for your pigs! Add your Safari Ltd. Farm Toob animals to your tray and let the play begin! If you're kids are playing on the floor you may want to lay down a towel or drop cloth to catch any mess. Although these materials are safe to taste, be sure to supervise play closely (or even join in!).
This post is by Emily Limer. Emily is a preschool teacher and mom of two toddlers who love to play with Safari Ltd. animals! You can follow her on Instagram @makingwithmommy for more kids craft and play ideas.