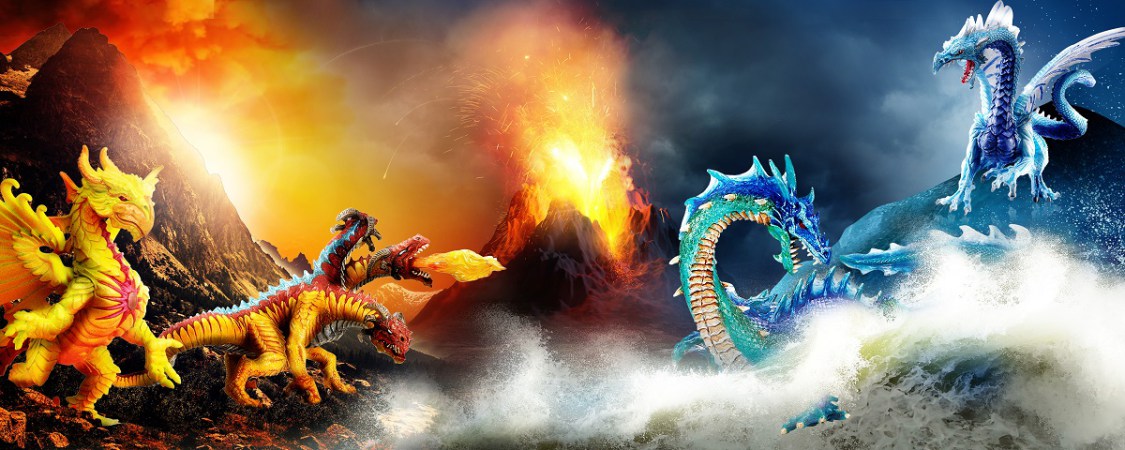 Explore the Realm of Fantasy with Safari Ltd
Safari Ltd® is known for its scientifically accurate figurines of wildlife, prehistoric creatures and farm animals. But that's far from all we offer. We also have a diverse collection of fantasy figurines that can help spark imagination beyond the natural world, including dragons, fairies, and other creatures and beings found in myths and folklore.
The fantasy genre is front and center in today's pop culture, not just among children, but adults as well. The enduring popularity of the Harry Potter series and TV shows like Game of Thrones are clear evidence of this phenomenon. Additionally, tabletop gaming with a heavy focus on fantasy is also seeing a huge resurgence, showing up as a big part of the Netflix series Stranger Things, wherein the main characters are heavily influenced by their shared interest in Dungeons & Dragons role playing. And Lord of the Rings, the fantasy epic written by J.R.R. Tolkien more than half a century ago, still maintains a huge following that continues to grow.
Fans of the genre will find a lot to love in Safari Ltd®'s offerings.  Our Dragons collection contains a wide range of original designs that fit right into any table top setup or dragon display shelf. These include more traditional-looking options like the Forest Dragon, Ice Dragon and Fog Dragon, as well as more specialized and unique dragons including the deer-like Stag Dragon, the skeletal Ghost Dragon, and the shimmering Crystal Cavern Dragon. There are even some downright whimsical reptiles, like the frowny Grumpy Dragon, the jovial Happy Dragon and the laid back Peace Dragon.
| | | |
| --- | --- | --- |
| | | |
| Peace Dragon | Ice Dragon | Ghost Dragon |
Beyond dragons, there are many other fantastical creatures you might recognize from some of your favorite stories. Soar the skies with a Hippogryph, a Phoenix or a Griffin! Or, you could stalk the woods with a wicked Werewolf, frolic in the fields with a Unicorn, or swim through the seas alongside a Mermaid. You can even go on a journey with some Halflings, meeting Gnomes and Fairies along the way!
Of course, these fantasy realms aren't solely populated by make believe creatures. Wolves feature heavily in Game of Thrones, as do the ravens th   at serve as messengers. In the Harry Potter books and films, owls provide a similar service by delivering mail to wizards. And Lord of the Rings features eagles and spiders, though they are both quite a bit larger in the story than their real-life counterparts. Safari Ltd® has been creating realistic wildlife figurines for over three decades, which means that in addition to our fantasy offerings, we have a wide range of highly detailed real world animals to supplement your fantasy figure displays.
| | | |
| --- | --- | --- |
| | | |
| Gray Wolf | Raven | Snowy Owl |
The focus on fantasy is great for expanding imaginations and getting creative juices flowing, and adding Safari Ltd® fantasy figures to your collection gives you the opportunity to dig deeper and create your own personal story!