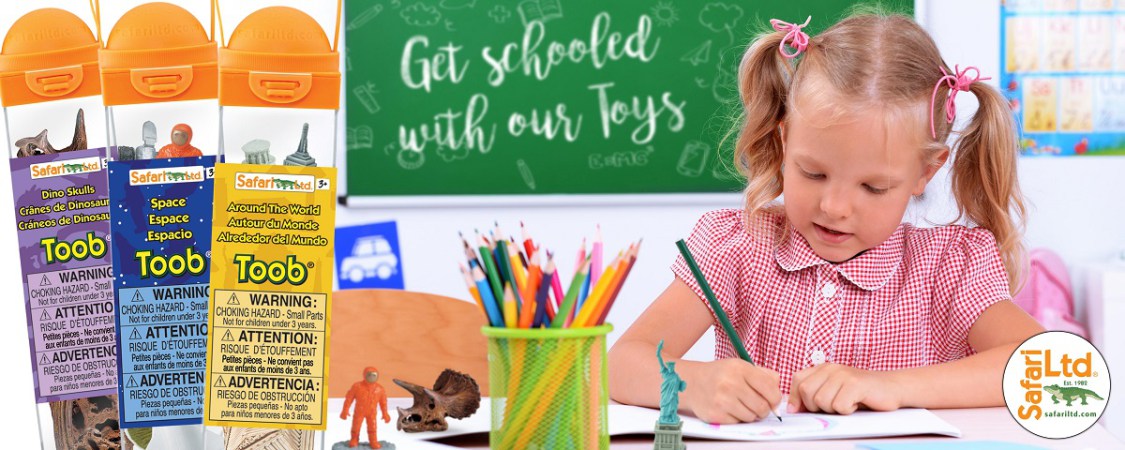 Educating Children with Safari Ltd.® Figures
Of course, Safari Ltd® figures are designed to educate…we are, after all, Toys That Teach®! Our products are designed to be accredited, accurate and authentic, so they can inform children about the natural world around them based on the most up to date scientific information available.
But beyond that, our toys can educate through interactive activities and projects that parents and teachers can plan for their children. Carolyn of The Wise Owl Factory notes that Safari Ltd® figures "help children relate to and have a deeper understanding of books and lessons." According to her, "children love them and find them engaging, and find the learning effortless when using appropriate toys." Supplementing lessons with Safari Ltd® toys can make them more fun by engaging directly with something they can touch and observe close-up.
Bird Matching Game with Exotic Birds TOOB (from Uno Zwei Tutu)
TOOBS® & Printables – A Perfect Match!
Our TOOBS® are a popular educational tool, as each one provides several easily identifiable figures or objects that can be used in many different learning exercises. Kaitlyn of Simply Learning Kids tells us: "We absolutely love incorporating Safari Ltd® TOOB® figures into the activities included in our free learning curriculums. My girls enjoy using them for pretend play, scavenger hunts, geography, bath time, and so much more!"
Missy of In Our Pond uses TOOBS® for Montessori inspired matching activities, where printable flash cards can be used to match an image with a corresponding TOOB® item. Matching games can help reinforce valuable scientific knowledge, vocabulary, organization and visual association skills. With our publicly available web and print ready images in our Online Offerings section, it's easy to make supplemental tools for learning activities. Kaitlyn has utilized this in her Simply Learning Kids activities, telling us they have "allowed me to make various educational printables to go along with TOOBS®."
Organs Matching Game with Sensory Bin (from Simply Learning Kids)
Exploring with TOOBS®– It's Just Good Common Sense!
Isabel of the multilingual parenting blog Uno Zwei Tutu tells us, "Both my three year old daughter and I love the Safari TOOBS®…the figurines are perfect to introduce toddlers and preschoolers to new vocabulary and for many other educational purposes, from sensory explorations to more complex subjects such as science and geography." This brings us to another useful project utilizing Safari Ltd® toys: the sensory bin. Sensory bins are a popular activity that encourage tactile learning, creative thinking and improving motor skills.  Placing TOOB® items in a contained area with a base – such as sand, mud or rice – allows children can explore and play with their hands. Depending on how many children will be participating, you can use anything as a containing space: a storage bin, a cardboard box, or a Tupperware container are some examples. Just remember, the shallower the better. If you fill your box too deep with base material, it could become too difficult for children to locate the items within the bin.
 Sensory Bin Activity with Shark TOOB (from In Our Pond)
Learning Through Play
From our TOOBS® to our larger, full-size figures, Safari Ltd® toys offer a great supplement for children to learn about the world around them. In addition to seeing pictures in a book or on a screen, having a three-dimensional representation they can physically engage with helps provide children with a better understanding of the subject. Missy says of her homeschooling activities with Safari Ltd®: "We live a long ways from a zoo, aquarium, or museum. Safari Ltd® products allow us to bring the zoo, aquarium, and museum to our house, in a miniature way that doesn't take up very much space."
 Black Bear Printables Activity with Figure (from The Wise Owl Factory)
In addition to being scientifically accurate, it doesn't hurt that our figures are tough enough to stand up to intense play. Missy tells us that her children "haven't been able to destroy a Safari product yet" while Kaitlyn says "the figures are incredibly detailed and I love that they are solid – they can be used for both regular and water play without worrying about mold. The products will definitely be used in our home for years to come!"
Many thanks to the following individuals for their help. Check out their blogs below for more great educational ideas using Safari Ltd® products: