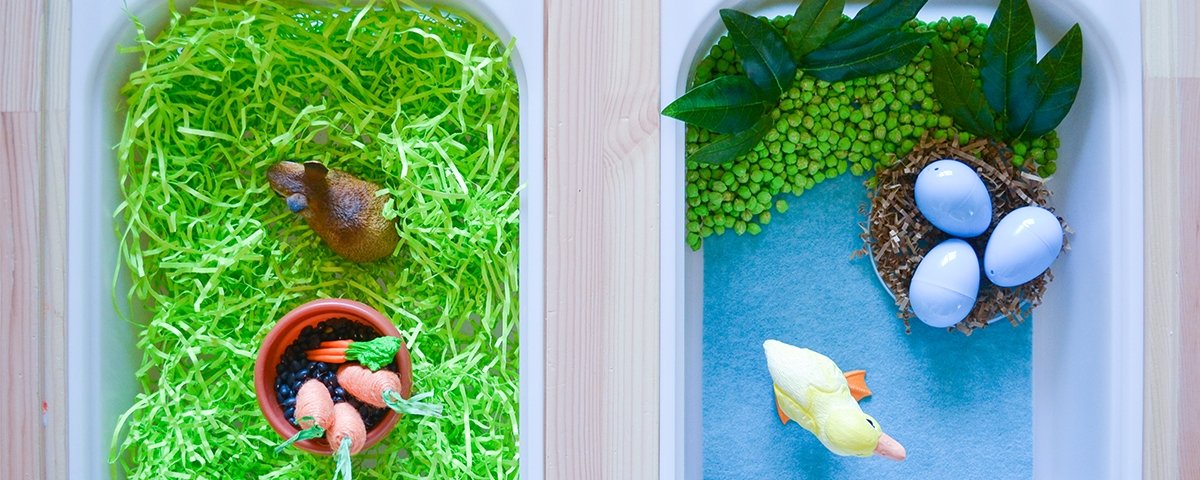 Easter At Home: The Benefits of Small World Play
Easter At Home: A How-To On Small World Play
Ever seen the phrase "small world play" and wondered what that means? Why should my kid be doing small world play? How do I set it up? Today, I am going to talk about some of the benefits of small world play and walk you through the process of setting up a simple at home Easter-themed play invitation!
What is small world play?
Small world play at its core is imaginative play with small toys. It encourages children to pretend with real life or fantasy situations! Small world play with Safari Ltd. figurines is one of my kids' favorite things to do. It's a great learning tool, too!
What are the benefits of small world play?
There are so many benefits to small world play! It encourages independent, imaginative play while also helping children build language skills and problem-solving skills! Kids are able to explore a lot of real-life scenarios through small world play, which can be particularly helpful when your kids are working through something tough. Here are some of the ways that small world play with Safari Ltd. animals can benefit your child: 
Independent play skills: Independent play in this regard refers to your child playing on their own, relying completely on their own imagination! Independent play helps kids gain confidence and explore their own emotions and ideas as they play. For some kids, like my oldest child, independent play isn't always easy. As parents, if we can continue to encourage our children to play independently, even for short periods of time, they will work to build this important skill! Creating an engaging small world play scene is one way I have been able to get my son engaged in independent play. 
Language skills: As children play and imagine with a small world play scene, they will build all kinds of expressive language skills! I love listening to my son talk as he plays with a small world. Often I hear him playing out scenarios that happen in books we've read, or that have happened in our real life. Small world play is also a great way to introduce new vocabulary and allow you kids to use it. Animal names, habitat names and more can be introduced and used in context through this play. 
Problem-solving skills: Small world play is a great way for kids to work through problems and think critically. Often, the materials involved in small world play will naturally lead to problem-solving. I see this a lot with my kids when they find that their animal "needs" something that isn't expressly present in the scene (ex: a bed, food, a cave). Watching them work through how to create and meet that need is always so much fun!
How do I create small world play?
There are so many different ways to create small world play scenes for you kids to play with! My best advice is to use what you already have, whenever possible, and to use materials flexibly. You can create a lot of different scenes with just a few simple materials. I usually try to create a habitat for our animals with a few different materials so that my kids have a variety of different items to imagine with. Below, I'm describing our simple Easter-themed small world play and how my kids chose to play with it. 
At Home Easter Small World: 
Materials Needed: 
Easter grass/crinkle paper (green and brown)
Easter eggs
Small, plastic gardening pot
Pretend carrots (ours were an Easter decoration I found at the dollar store)
Black beans
Blue felt (one small sheet)
Dried chickpeas (or pasta)
Green acrylic paint
Large zipper bag
Parchment paper
Recycled plastic lid
Hot glue gun
Faux greenery (or real greenery from your yard!)
How to set it up: 
First, choose your bin. For this small world, I knew that I wanted to create two mini habitats for two of our Safari Ltd. Incredible Creatures: the ducking and the Eastern cottontail rabbit. I chose two use two large bins in our sensory table. You can use any shallow plastic box for an activity like this! 
Next, create the rabbit small world. I began by adding green Easter grass to cover the bottom of the bin. I filled a small, plastic flower pot with black bean and stuck some decorative carrots into it. I also added the carrots from our Safari Ltd. Fruits and Vegetables TOOB! 
Why? I used the Easter grass because it has an interesting texture. Incorporating materials with different textures is a great sensory experience for toddlers and preschoolers. I added the pot of carrots for two reasons: 1. It gives the bunny something to eat, 2. It can extend into other types of pretend play! My son actually asked me for a shovel so that he could plant carrots and be a gardener. Always encourage your kids to extend play beyond the initial set-up. 
Last, I created the small world bin for the ducking. I used a piece of blue felt on the bottom to represent the water. Using real water here would have been tricky because I am also using dry materials, like paper. Next, I added a small pile of painted chickpeas in one corner and place a few faux leaves around the pile. I had these made from another activity, but they're easy to do! Just add dried chickpeas or pasta into a large zipper bag, squirt in some paint and shake. Spread them out on a piece of parchment paper to dry for a couple of hours. 
I also made the ducking a nest! I used hot glue to attach some brown Easter grass to a recycled lid from a yogurt container. I placed three plastic Easter eggs in the nest. 
Why? Creating the nest gives your child something for the duckling to interact with as they play (like the carrots in the rabbit habitat!). It's a great way to spark pretend play. My kids also enjoyed filling the Easter eggs with the chickpeas, which was completely unexpected! They incorporated this into their play as a way to feed the duckling. 
This post is by Emily Limer. Emily is a preschool teacher and mom of two toddlers who love to play with Safari Ltd. animals! You can follow her on Instagram @makingwithmommy for more kids craft and play ideas.