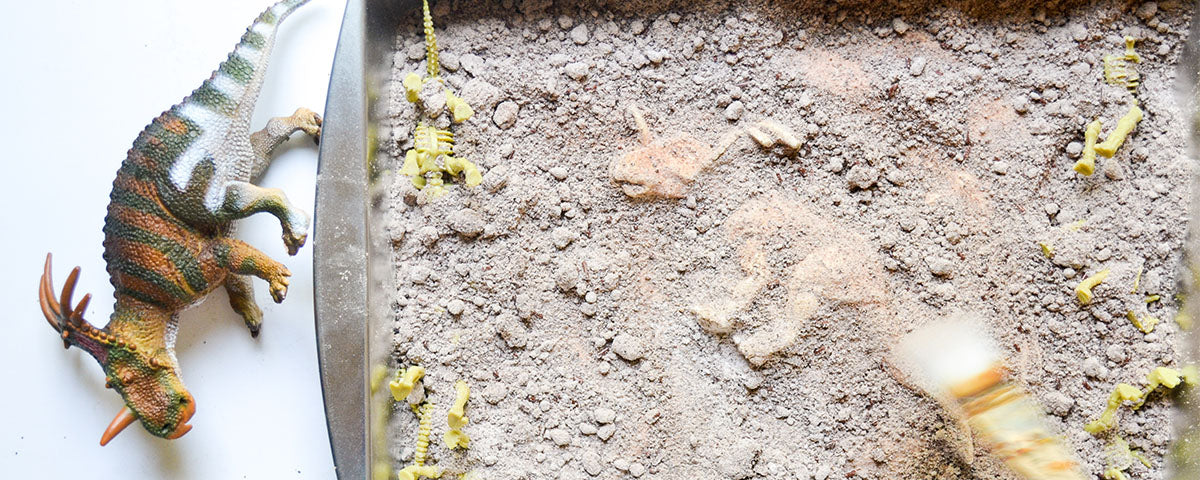 DIY Plaster Dinosaur Fossils
Using your Safari Ltd. dinosaurs, play dough and plaster of paris, create a mold and cast your own fossils! Once dried, your fossils can be used in play activities or can be painted and displayed! Get the full tutorial for how to make these fossils and a simple idea for how to play with them below. 
Materials: 
Play dough (your play dough will not survive this process, so it may be best to use old dough or homemade play dough to reduce the cost!)
Plaster of Paris
Wooden craft stick
Disposable baking tins
Wax or parchment paper
HOW-TO:
Step 1: Press your play dough into the disposable baking dish. Press the dough so that it fills the entire bottom of the dish. You want your dough to be about 1 inch thick. Use your hands to make the surface of the dough as smooth as you can. 
Step 2: Press your Safari Ltd. dinosaurs into the playdough and gently remove them. You should have an impression of the dinosaur's shape left in the dough! I love the detail in our Safari Ltd. dinosaurs - they leave such interesting impressions!
Step 3: Mix your Plaster of Paris with water according to the package directions. Pour the mixed plaster over the play dough in your tray and spread it evenly using the wooden craft stick. Allow the plaster to dry according to the package instructions (we let ours dry for around 6 hours). 
Step 4: Once the plaster has dried, remove it from the pan by bending the sides back and turning the pan over into your hand. Peel the playdough off the back of the plaster. If the playdough sticks, you can use a toothpick or qtip to remove it. You will be left with a fossil-like cast of your dinosaur! You can paint your fossil with acrylic paint or leave it white.
Create a dinosaur dig sensory bin: If you want to have a bit of fun with your fossils, place them in a large plastic or metal bin. Mix together flour, cocoa powder and ground coffee in a bowl and pour it over your fossil. Set out the sensory bin with some tools like a paint brush, magnifying glass and tweezers and allow your kids to "dig" for the fossils like a real paleontologist!
Emily

 Limer is a science educator and mom blogger! Follow along with her on Instagram @makingwithmommy