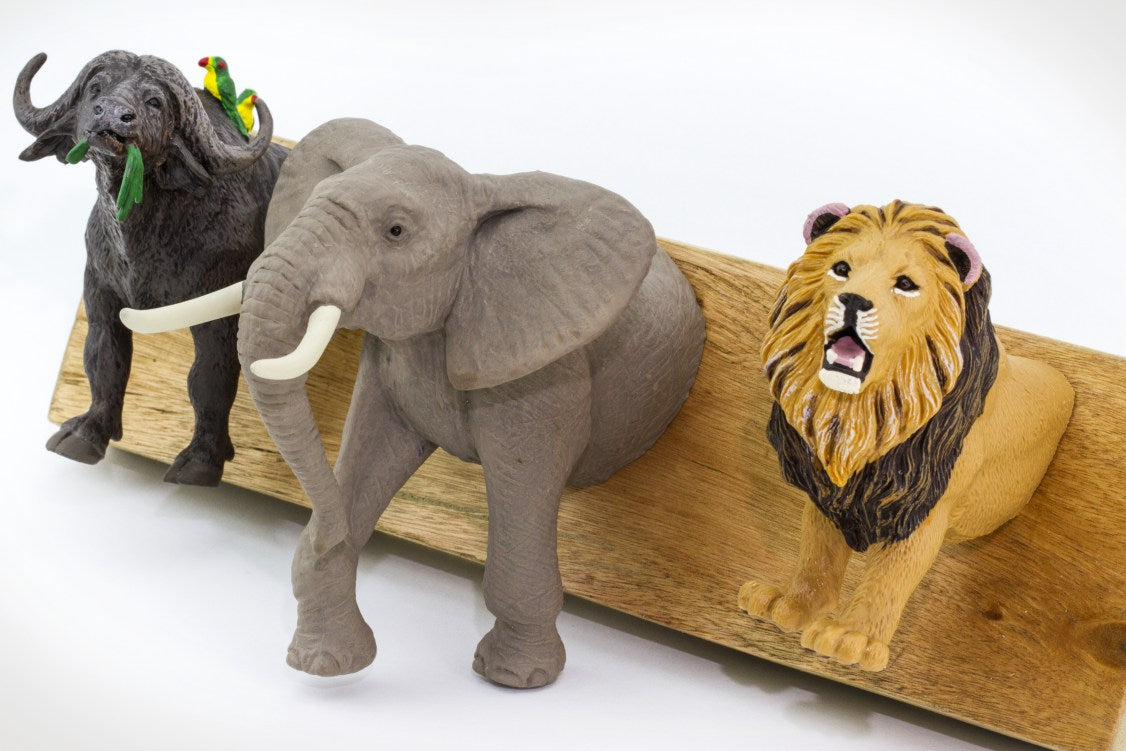 DIY Animal Coat Rack
Decorating a child's room is probably one of most fun parts of the house to transform! The decor elements can be fun and silly, and creating an environment based on your child's favorite animals turns this into a family activity.
Children as young as 1 begin to develop their tastes and preferences. They start to tell you the cereal they want, and their favorite superhero or animal. Creativity begins to spark, making a child's room the center of their universe and a place you want to make inspiring.
Safari Ltd® figurines, which are widely used by educators and parents for classroom learning and play, are terrific for DIY and interior decor for kids' rooms. These Toys That Teach® are versatile, and we'll outline an easy, affordable way to convert these learning figurines into an animal coat rack your child will love!
Things you'll need
A piece of wood (The size depends on how big or small you would like the coat rack to be, ours is 11 inches.)
3 Safari Wildlife figurines: Cape Buffalo, Elephant, Lion (Again the amount of figurines and type of animal depends on size and preference. We only need 3 for our small coatrack and we are going for a wildlife theme!)
Hangers
Nails and a hammer
Step 1 If your piece of wood needs to be cut or sanded down, this is the first step. We cut our wood plank down to our desired size of 11 inches.
Step 2 Saw the animal figurines in half.
Step 3 Add hangers to the back of your plank so you can hang it up when you're done!
Step 4 Superglue the animal figurines to the wood, be sure to space out evenly. You can eye it or use a ruler for precision.
Step 5 Hammer your nails on the wall in desired room and hang. We recommend near the front door of your kid's room or in their bathroom to hang towels!
Did you like this easy DIY? Have some DIYs of your own to share? Chat with us in the comments below or on social media with the hashtag #LOVESafari