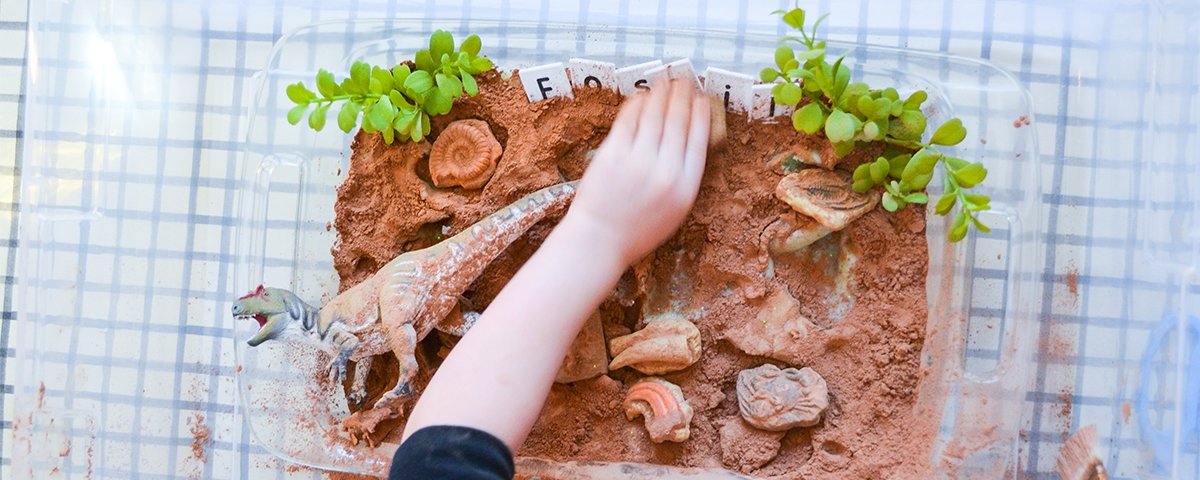 Dinosaur Series: Create Your Own Fossil Dig
How To Create Your Own Fossil Dig
Using playdough and your Safari Ltd. Ancient Fossils TOOB®, create a fossil digging activity that is great for kids of all ages! They will have the chance to work on their fine motor skills, strengthen hand muscles, and experience a variety of different textures in a complete sensory experience.
This Fossil Dig Activity Is Great For Building Vocabulary And Language Skills
I love incorporating Safari Ltd. toys into our play for this very reason. Talking to your kids as they play with these toys is a very natural way to introduce them to new words. So much research has been done on the importance of learning new vocabulary through play. Our kids remember new words much better when they learn them in context of something fun! My son, age 3.5, and I talked about fossils, paleontologists and prehistoric organisms before, during and after this play. All the while he was learning without even realizing it! Three cheers for Toys That Teach!
Materials Needed:
- Safari Ltd. Ancient Fossils TOOB®
-Playdough (any color will do!)
-Cocoa powder
-A large tray or baking dish
-Old paintbrushes
-Tongs, tweezers, small spoons and other fine motor tools for digging up the fossils
Creating Your Own Dinosaur Fossil Dig
Step 1: Begin creating your fossil dig site by filling the bottom of your baking dish with a layer of playdough. The color of playdough does not matter, however your playdough will no longer be usable once this activity is finished. I generally use homemade playdough that is nearing its expiration date. My homemade dough recipe and instructions can be found at the end of this post!

Step 2:

Push each of the fossils from the Ancient Fossils TOOB into the dough. Don't cover them completely, but push them in far enough that they will present a bit of a challenge for your kids to remove. Pulling the fossils out of the dough is a great way to strengthen the little muscles in your child's hands!
Step 3: Sprinkle a layer of cocoa powder over the top of your dough and Dinosaur fossils. You want a thick enough layer that the fossils cannot be seen.
 
Step 4: Prepare for play! This play can get a bit messy as your kids "dig" in the cocoa powder. To contain our mess, I placed the playdough tray and all tools (paintbrushes, tweezers, tongs, spoons, etc.) in a large, shallow plastic box. I placed this box on top of a drop cloth, too! Before my son started playing, I talked to him a little bit about paleontologists, what they do and what kinds of tools they use. We also read a dinosaur book together! This is a great way to prime your kids for an activity so that they can get the most learning out of it.
Step 5: Dig! Let your kids use the different tools to dig up each fossil! I told my son that there were 10 different fossils to find, so he got a bit of a counting activity out of it, too! He started off using the paint brushes to search and digging fossils out with his fingers. About half way through I encouraged him to try some of the tongs and tweezers, too! As we found each fossil I asked him what he thought it was. We then checked the back of the toy to find the name (one of my favorite things about Safari Ltd. toys!!).
Homemade Play Dough Recipe:
2 cups bread flour (all purpose flour is also fine!)
½ cup salt
2 tbsp vegetable oil
3 tsp cream of tartar
2 cups water
Food coloring
How to
To Make Your Homemade Playdough
You will need: a large, deep pan (mine is similar to a wok in shape), a sturdy spoon or spatula, a whisk, all of the ingredients listed above, and parchment paper. I use bread flour in my playdough recipe because I find that it makes for a softer and stretchier dough, however substituting all purpose flour will work just fine!
Step 1: Combine all ingredients in your pan and whisk to combine. Be sure to break up as many flour lumps as you can while whisking. When I am adding food coloring, I often add the coloring to the water and then pour it into my dough mixture. This helps to spread your color out! Add as much color as you like, but the color will darken some as the dough cooks.
Step 2: Cook on medium heat on your stove top. Stir very frequently (almost constantly). As you stir, scrape across the bottom of your pan with your spoon. The dough will slowly start to form a ball in the center of your pan as you scrape and stir. Continue cooking until the dough ball no longer appears wet. This usually takes 6-8 minutes, but could vary depending on your stove and pan.

 

Step 3: Lay out a piece of parchment paper and dump the cooked dough ball onto it. Allow the dough to cool in a ball for about 5 minutes. Once it is cool enough to touch, begin to knead the dough with your hands. Knead for about 5 minutes to help smooth out any lumps and soften your dough.
Step 4: Flatten the dough into a pancake (2-3" thick) and cover with another piece of parchment paper. Allow the dough to cool completely. Once totally cooled you can play with it! When you are not playing with your dough, keep it in an air-tight container or zipper bag. Properly stored dough can be used for around 6 months!
This post is by Emily Limer, a mom of two little Safari fans and a preschool teacher. You can follow her on Instagram @makingwithmommy for more kids craft and play ideas!
The Ancient Fossils TOOB® is part of our TOOBS collection. Our exclusive TOOBS® are all-in-one sets including several miniature figures focused on a theme, with packaging that serves as a re-usable portable storage case with a latching top and carry handle. These mini toy sets are great for vacations and trips, dioramas and school projects, or sand tray therapy and other play therapy exercises.