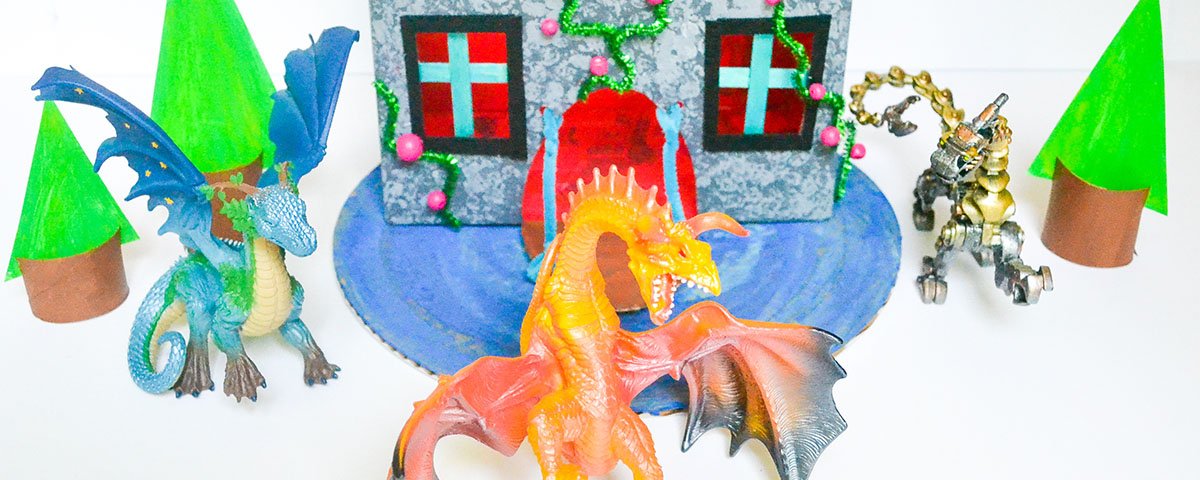 A GOT Worthy DIY Cardboard Castle
Game of Thrones may be over, but our dragon and castle obsession is not! Create your own castle to play or display with your favorite Safari Ltd. dragons with this fun DIY! Read on for the full instructions to make your own! 🐲
What you'll need: 
-A cardboard box (choose a box that is the shape and size you'd like your castle to be)
-Masking tape
-Scissors
-Sharp knife for cutting cardboard (an adult should do this part!)
-Acrylic paint (red, brown, black and white)
-Paint brushes
-2 cardboard tubes
-Bubble wrap (a small piece will work!)
-Pipe cleaners (green and blue)
-Beads (pink and red)
-4 popsicle sticks
-2 toothpicks
-Blue felt or paper
-Hot glue gun (*always ask an adult for help when using a hot glue gun!)
Directions:
1. If you have writing on the outside of your box, first deconstruct your cardboard box. Using making tape, put your box back together inside out so that the exterior is now plain cardboard. Cut the top off of your box - it should still have 5 sides remaining.
2. Use scissors to carefully cut castle details along the edges of the open side of the box (the top of your castle). Cut out small squares every inch or so along all four sides. Using a knife (this job is for adults only!), cut out two windows on the front of your castle. Cut a curved shape for the door, leaving the bottom of the door attached to the box so that it will open like a drawbridge.
3. Paint your castle! Using acrylic paint will help cover the surface of the box more effectively. We painted the inside of the castle red, the outside light gray (by mixing black and white paint) and the door brown on both sides. You can choose your own colors to make your castle unique for you and your dragon collection!
4. Next, add stone-like details to the outside of your castle. Mix a slightly lighter color of gray paint. Take a small piece of bubble wrap and dip the bubble side into your paint. Gently press the paint onto the outside walls of the castle. Sponge paint randomly across the surface to make a finish that looks like stone!
5. Create two castle towers with the cardboard tubes. Cut squares out of the top of each tube to mimic the top of your castle. Paint them light gray and sponge paint them with bubble wrap so that they match the outside of the castle. Let all of your paint dry completely.
6. Assemble your castle and add detail. Use your hot glue gun to glue the cardboard tube towers into the front, interior corners of the castle. Create little flags by cutting triangles from felt or paper and gluing them to toothpicks. Glue these to the inside of your towers. Use pipe cleaners to finish your drawbridge.
Punch holes with your scissors or a hole punch in the door and around the edges of the castle (two holes on each side). Poke a pipe cleaner through the holes and twist. Bend them into a curved shape. Glue popsicle sticks on the back side of each window in a cross shape to add detail. Lastly, use green pipe cleaners and beads to make vines! Bend the pipe cleaners into wiggly shapes and glue them onto the castle. Glue on the beads as a finishing touch!
When your castle is complete, it is a great way to play with your Safari Ltd dragons! You can also display your castle alongside your favorite dragons and other fairy tale creatures!
Emily
Limer
 is a science educator and mom blogger! Follow along with her on Instagram @makingwithmommy