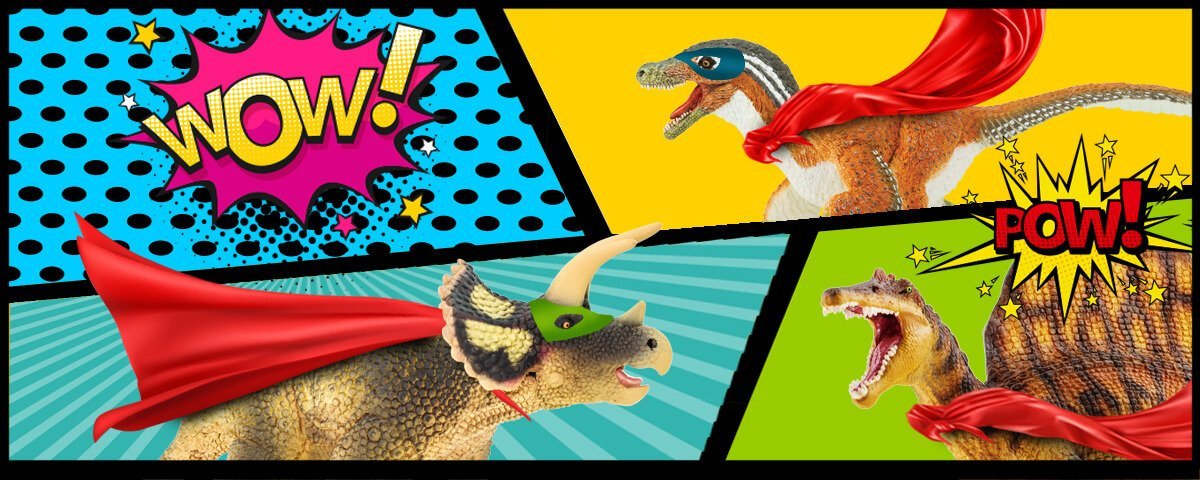 A DIY Dino Drama Scene
A creative surprise that's perfect for imaginative play!
Playful Dinosaur scenes are a fabulous way to add a fun surprise to celebrations! These cute scenes are also a spectacular way to build community and show love. 
A fun way to bond with family and friends or build community. Use Safari Ltd dinosaur figurines (or other Safari Ltd animals) to style playful drama scenes for birthdays, graduations, retirements… or just a sincere thank you. The figurines that you use can also double as a special bonus gift for the recipient!
Super-Dino Congratulations Scene
Children feel like superheroes when they have been working hard and achieve a big goal.  
Recognizing and honoring a child's effort is a great way to bond with a child and build their self-esteem. Children rejoice in positive recognition! Surprise your little superhero with a box of amusing dinosaur heroes. They will unwrap their very own small city of heroes for celebration and imaginative play!
A Super-Dino Scene is a fun way to celebrate a child's special achievement or milestone. Some potential reasons to celebrate would be: graduations, sports achievements, school awards, good grades, learning a new skill, etc.
 Materials:
Dinosaurs figurines from Safari Ltd

We used the following Safari Ltd dinosaur figurines:

Hero Accessories Printable
Building Fronts Printable
Spotlight Printable
Create a congratulations message for inside of box door
Large box (I used a box that was 22" x 18" and 12" deep)
*An alternate FASTER and EASIER option is to mount city buildings on poster board and position the dinosaurs in front.
Wrapping paper and ribbon if you want to wrap the box like a gift
For a 3D effect, you will need recycled food boxes (cereal boxes are a great choice) to glue building pictures onto
Various colors of cardstock (Also, felt or cloth if you would like to have cloth capes and masks (You would print and then trace the capes and mask onto the cloth and cut them out)
Black construction paper, black poster board, or black paint
Glue stick, hot glue gun/hot glue sticks or command strips, and clear tape
Hole punch


Free Printables:
Dino Figurine Costume Instructions:
1. Print the cape and mask templates that you will need on card stock.
**If you choose to make cloth capes and masks (a more durable option):
Print templates, and then trace them onto chosen cloth/felt.
Cut the capes and masks out of cloth. Use a hole punch to make eye holes on the masks.
3. Cut out Cape and Mask templates and follow assembly directions (listed on template forms).
4. Dress the dinosaurs in capes and masks (tape, use glue dots, or a dab of hot glue to secure capes and masks onto the dinosaurs- I was able to gently scrape off the small dabs of hot glue off of my dinosaur figures when removing capes and masks). Depending on the dinosaurs you choose, you may need to trim excess amounts off of the masks to make them fit.
Building Construction Instructions:
1. Print city buildings of your choice from file. Pick and choose the building that you would like to use. Most of the buildings are designed so that you can trim them to a smaller size if needed. Cut out city buildings.
2. Wrap exposed areas of recycled food boxes in black paper (so they blend in with background).
3. Tape or glue building pictures to the front (and sides if necessary) of recycled food boxes. You will need to cut recycled boxes down to appropriate sizes. I did this by tracing the building size onto the back and front of the box. I then cut on the lines. I overlapped the two resulting pieces to make a smaller box. I taped the pieces together.
Large Display Box Instructions:
1. For the large display box that the building will go inside of: cover inside of large box with black paper (to simulate a night sky).
*Another option would be to paint the inside of the box black.
2. Cut off the short flaps on the lid of the large box, leaving the two larger flaps to serve as "doors."
3. Wrap large box in wrapping paper, making sure that the two large doors are able to open and close.
4. Glue ribbon or string to front of "doors," so that they can be tied in a closed position.
5. Place city buildings inside of the large box and glue or tape in place. I used a mixture of flat and 3D buildings.
6. Glue spotlight on top of a building, and glue the light beam with "Calling all superheroes" coming out from the front of the spotlight and projecting onto the "sky." I chose to place this on the inside of one of the door flaps.
7. Glue a congratulations message/pictures on inside of second door flap.
8. Add dinosaurs in various positions around the city. Secure the dinosaurs in place by using command strips (cut to size for their feet) or dabs of hot glue on the bottoms of the dinosaurs' feet. You can also place the dinosaurs without glue if the box is in position and doesn't need to be moved.
9. Close doors and tie in the closed position. You can choose to add a gift tag of your choice.
SURPRISE! Give Dinosaur Scene to the gift recipient or leave it for them as a lovely surprise!