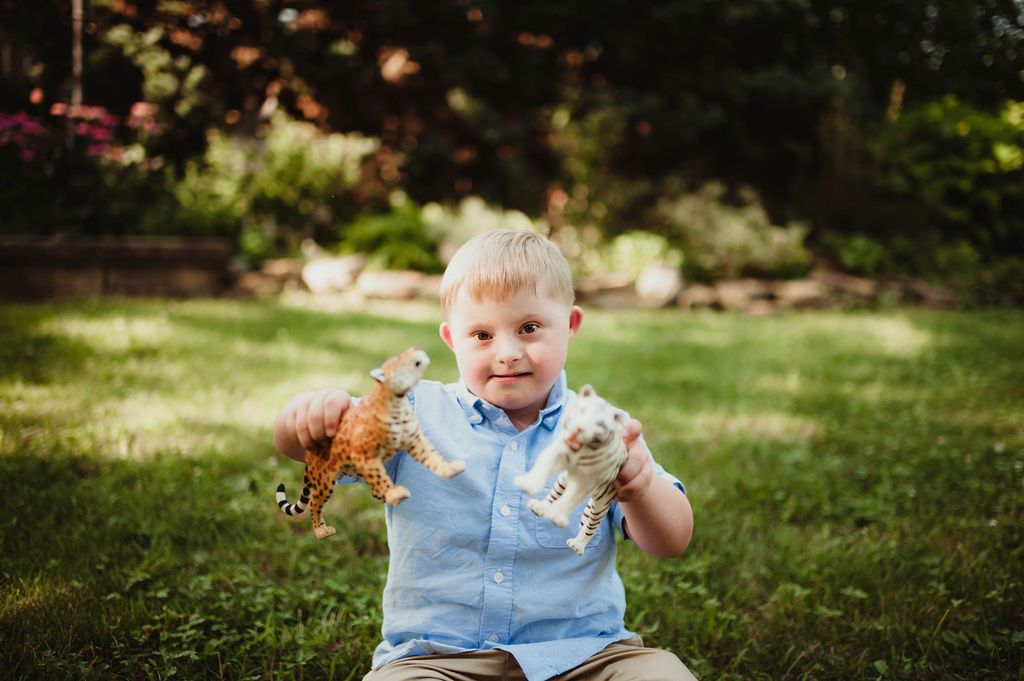 Q&A with a Special Needs Parent - Advice on Parenting and Playtime
Today, we chat with Melanie Lewis, Mother of two kiddos, one of which is a special needs child. We learn about daily life with her son and talk about what it really means to parent a child with a disability, including myths and advice. Here's her story!
1. Tell us about your family and how you found out you would have a special needs child.
My name is Melanie Lewis and I live in Ellettsville, IN with my husband Jeremy and my two children Chelsea and Landon. Our son Landon is a special needs kiddo.
During my pregnancy, there were "markers" indicating that Landon had down syndrome. The only test I was offered to diagnose before birth had a risk of miscarriage, so I decided not to the risk and wait.
The day Landon was born, he was rushed out to the NICU as he was born with
Complete Atrioventricular Canal (AVC) Defect
and needed special attention. During that time, they were able to fully diagnose him, in which I found out the day after he was born.
2. What is a day in your life like with Landon?
Landon gets up around 6am Mon-Fri for school currently in first. Sometimes he wakes up earlier and heads to his sister's room to lay down with her until it is time to get up. Once he is up, he watches cartoons (Mickey Mouse or Peppa Pig) until it is time to get dressed.I help him get dressed and get his backpack ready.
We leave our house around 6:45AM to head to school. Landon attends latch-key (a before-school program) until 7:30AM, in which a teacher aid comes to get him for breakfast. Landon is a good eater, but doesn't care for the typical cold breakfast foods, like cereal, granola bars, etc, so I make him a warm breakfast every day. This consists of different yummy items, like sausage patties, sausage links, Ham and cheese omelets, fried eggs, scrambled eggs or breakfast casserole!
After breakfast Landon starts his school day, during that time, he is taken to a larger classroom and participates with other kids. He also attends music, art and library with that class.
After school, Landon rides the bus home. He loves the bus and typically says "no" when it's time to get off 😊
Once home, Landon likes his quiet time, which consists of eating gold fish, having a drink and watching shows on his iPad.
For dinner, Landon is usually asking for a hot dog with either mac and cheese or Fritos. After eating dinner, Landon requests a cucumber with ranch. He prefers salty over sweet eats!
After dinner, Landon plays or watches shows until bath time. He usually has a few hours after his bath or shower to wind down. During his wind down period, we usually watch a movie on TV or he watches one on his iPad. Bedtime is 9PM!
3. What are common misconceptions around special needs children and/or parenting a special needs child?
It is a common misconception that Landon cannot do what other "normal' kids do. That is false! Landon can do anything other children do; it may just take a little longer to do it. Another common misconception is that Landon is made fun of for being a special needs child. No, this child is not made fun of, instead he is liked by everyone! Which can get on Landon's nerves because sometimes he wants to be alone 😜
4. What are some of the challenges?
Communication: Landon has a delay in communication, which makes it really hard sometimes to know what he wants or needs.
5. What are Landon's strengths? What does he enjoy doing?
Laughter! Landon can make anyone around his smile and laugh.Landon loves the outdoors.
He loves helping mow the yard
Riding 4 wheelers
Riding on the side by side
Going on the boat
Love the beach and water
Monster Jam
6. Tell us about the joyful moments and what you've learned from Landon.
I have learned patience. As a mother, you learn to have patience, but to handle a child with a disability, you must have more patience than ever. You don't want to show frustration because that can make a child believe they are doing something wrong.
7. Do you have any tips that have worked with Landon you'd like to share with other parents? 
Get your child out and around others! Sometimes we have a hard time getting Landon out of his bubble, so it is very important to have your child involved with outside activities.
8. What are Landon's favorite animals?
Landon loves dogs and farm animals!